Using bar codes within an application
(Last updated 2010-09-27)
This really means any application not just Microsoft Access. Here is an excellent article on using MS Access to ship products. How to Ship Anything By Joel Spolsky
- A means of reading bar codes. These devices usually fit between your keyboard and your computer and mimic someone keying in the code directly. All you need to do in your app is a little forms design to ensure someone can continuously feed bar codes into your app and change the quantity sold occasionally from the default of one. Thus you'll want to set the focus to the field where the bar code is being entered.

- A means of printing bar codes. Choose the proper barcode and locate an appropriate font. Place the font file on all the systems which will be printing bar codes. As a double check I check for the existence of the file within the Windows font folder before printing any reports containing bar codes. On the report(s) change the font on a field to use the bar code font. Some bar codes, such as 39, like having "*"s before and after while others like check digits. Other bar codes require check digits and may not be possible using a font. Also the quality of the bar code may not be sufficient using a font. There are also minimum requirements for vertical spacing between bar codes if there are multiple bar codes on the same page.
For heavy duty outdoor weatherproof labels you'll need to spend some serious money on a thermal transfer printer which puts black plastic on a plastic sheet. A client has been happily using Zebra printers.
Free bar codes
A very interesting solution for 3 of 9 was done as VBA code by James Mercantile. Barcode Generator for Code 3 of 9, Code 39, and Mil-spec Logmars. The VBA code reviews the size of the control and creates white and dark lines accordingly. The advantage is that unlike with some free fonts you can have the control as tall as desired so it's much easier for the folks on the floor to hit the bar code. .(

2008-12-26)
Links
UPC Bar code links as supplied by fellow MVP Henry Habermacher

Auto FE Updater distribute new and updated Front End databases to your users with several mouse clicks.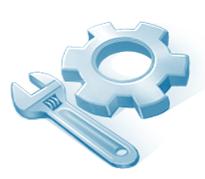 Granite Fleet Manager - the best designed fleet maintenance tracking and management system available