"Needs to be repaired" message then "Not a valid password"
Access 95/97
Note: This approach only works on Jet 3.0/3.5 MDBs. Or Access 97 and Access 95 MDBs. Try using the Jetcomp utility for Access 2000 and newer.
Question: We have an Access database with a password on it that corrupted. When we try to open it we get the following error message: "The database <name> needs to be repaired or isn't a database file. Do you want Access to attempt to repair the database?" When we click on "YES" it comes back with a "Not a valid password" box. When we click on that it says that the database cannot be repaired or isn't a valid Access database.
Response by Peter Miller of PK Solutions.
The repair feature in Access doesn't always make use of the (correct) password provided, and so reports a password error when in fact the password was provided. The solution is to reset the password externally, using basDatabasePassword - Retrieve the database password of any Jet 3.x/3.5x database, and then repair the file. If you are unsure how to do this, we can do it for you.

In any event - do not worry about your file! It is almost assuredly fine and intact. Its just that you need to coax Access into bypassing the password instead of ignoring it and erroring out.
The Jetcomp utility will allow you to specify the password when doing the compact/repair.

Database password appears to be set Also see TSI Word to the Wise
Access 2000
Download Office 2000 SP 3. See the You Cannot Repair a Password-Protected Database section in ACC2000: Issues Fixed in Access 2000 by Office 2000 Service Pack 3
[ Corrupt MDBs | Access | Main ]

Auto FE Updater distribute new and updated Front End databases to your users with several mouse clicks.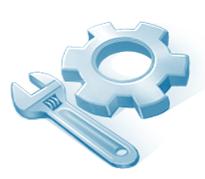 Granite Fleet Manager - the best designed fleet maintenance tracking and management system available