Microsoft Access 2000 Developer Edition FAQ
(Updated 2010/09/27)
The Access 2000 runtime requires a reboot after install. At least it did in my limited testing. Thus I do not recommend the Access 2000 runtime for that reason alone.
---
Fellow MVP Sascha Trowitzsch has an interesting page How to patch an Access 2000 Runtime package to Service Pack 3. He stated this procedure does not work with Access 2003.
---
Q: How do I start up the MOD 2000? It's installed but where do I start it up?
A: Open the VBA IDE using Ctrl+G >> Addins >> Add-Ins Manager... >> VBA Package and Deployment Wizard
---
Q. Can I use the MOD 2000 to package and ship an Access 97 MDE?
A: No you can't. Well, you might be able to if you poked about in the setup CAB files and updated them yourself. However you would have to run the MOD 2000 in the first place from within Access 2000 so what's the point.
---
Note - Microsoft Update will not find any Office 2000 updates. For more information see my Access 2000 security patches blog entry. You could send the user to the MS Office updates for security patches but again I really don't want to send shrink wrap users to MS and have them download and install more stuff.
The Office 2000 SP3 is a sizable 14 Mb download. However Description of the Office 2000 Service Pack 3 (SP3) states, in the Notes About Office 2000 SP3 section:
The English, French, German and Japanese language versions of the Administrative download includes the following update:

Artsp3ff.msp: A full-file client update for Microsoft Access 2000 Runtime Files.
There are also several more updates on the Office Update form that you can also download.
There may be ways to chain those updates together. Or maybe I'll write a small custom VB6 program to do that. I'll see what the effort is. Given that the Access 2000 runtime requires a reboot I won't be using this runtime. That's just too unfriendly.

Auto FE Updater distribute new and updated Front End databases to your users with several mouse clicks.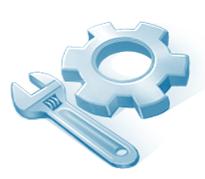 Granite Fleet Manager - the best designed fleet maintenance tracking and management system available