Microsoft Office Access 2007 Developer Edition FAQ
(Updated 2010/09/27)
Q: What about the Access 2007 runtime? Is it really free?
A: It is free. The runtime and developer extensions will be FREE - Clint Covington blog entry
Access 2007 Runtime and Developer Extension will be Free - Eric Rucker blog entry
Access 2007 Runtime information - Clint Covington blog entry
See Introducing the Access 2007 Developer Extensions and Runtime and Introduction to the Access 2007 Developer Extensions and Runtime for more information and download links.
Q: I've installed the Access 2007 Developer but I can't find it.
A: Click on the Office button (that large Office logo on the upper left hand corner) and look at the bottom of the list.
Q: I installed the developer extensions but can't find the Developer option in the Office button.
From a fellow Access MVP - The Add-in will disable itself if you switch between Access versions. So if he has more than the 2007 edition installed and he opened the earlier edition after the installation he will need to manually re-enable it through the Access Options dialog (Office Button--Access Options--Add-ins--Manage: COM Add-ins--Go...--Check Microsoft Office Access Developer Extensions COM Add-in--Ok--Close Access Options and look under the Office button again).
From Don Barton - I was creating a runtime database and received an error regarding Dev Extensions. (I think this was due to hitting too many keystrokes while the packaging program was open, but that is beside the point) I then noticed the Developer option was no longer listed under the Office Button. I uninstalled the Dev Ext and the Runtime and reinstalled them, then rebooted. The Developer option under the Office Button was still not listed. I went under Access Options - Add in, and saw the Dev Ext were disabled. After enabling it, the Developer option appeared under the Office Button.
Q: I want to customize the ribbon for my users.
RibbonCustomizer, by fellow MVP Patrick Schmidt, is an add-in for Microsoft Access, Excel, Outlook, PowerPoint and Word 2007.
Q: How do I set the trusted locations using the runtime?
All trusted locations created using the Access 2007 GUI are stored in the registry under:
HKCU\Software\Microsoft\Office\12.0\Access\Security\Trusted Locations\LocationN
(where N is an integer)

To see what the entries created by the Access 2007 Trust Center should look like, just add a trusted location, then go to the registry to look at the key and see what it did. Note: you cannot trust a specific file, but only at the folder level, so you'll want to make sure that you're installing your app to a folder that contains only your application and not other stuff. Of course, you can use the ADE to set this registry key as a part of install as well.
Access 2007 will go through all the registry entries under the Trusted Locations key. So you can call your trusted location as you desire so long as it doesn't conflict with another applications key. You may want to use your company name and app name or a GUID.
For example
HKCU\Software\Microsoft\Office\12.0\Access\Security\Trusted Locations\Company Name App Name
Q: Any other useful web pages?
Assuming this page was useful <smile> see Deploying Access 2007 Runtime-Based Solutions.

Auto FE Updater distribute new and updated Front End databases to your users with several mouse clicks.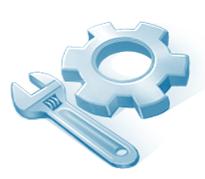 Granite Fleet Manager - the best designed fleet maintenance tracking and management system available