Microsoft Access Email FAQ - Third Party Controls
(Last updated 09/27/2010)
Given that I have little control of my clients software and what other products they have installed on them I like using controls which do the dialing (if required) and the uploading/downloading of email directly.
The user configures Win 95/98/NT in the normal fashion for ISP connections. In the Access software they enter their ID, password, mail server POP and SMTP name and ISP phone number, choose the modem dialer profile previously defined to Win 95/98/NT, and the Mabry controls do the dialing, uploading/downloading of email and your software does the rest.
You aren't dependent in any way on how the system is configured. You don't have to have all the various versions of Exchange and Outlook on your system to support the clients. So long as they've configured Win 95/98/NT networking to connect to their ISP. You control everything. You can also log, in your application, exactly when email was received or sent.
As one programmer put it: "Users tend to tweak their profiles, so one day your application works great, and the next day it crashes or sends out unreadable attachments. Way too much tech support for me!"
I've had good success with the Mabry mail and RAS controls. Click here for my sample code using the Mabry controls, DAO and a recordset to send the same email to many email addresses. I did have to go looking in a non standard place at the Mabry website though.
There are other controls available which Access programmers have indicated work in Access. As always your mileage may vary. Try before you buy. And do a search at groups.google.com on "Microsoft Access" and the name of the control to see what comments are out there. Or "Visual Basic" or VB.
[ Email | Access Tips | Access | Main ]

Auto FE Updater distribute new and updated Front End databases to your users with several mouse clicks.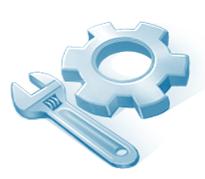 Granite Fleet Manager - the best designed fleet maintenance tracking and management system available