Microsoft Access Service Packs, Release, Patches and Updates
(Updated 2010/09/27)
All Access fixes are strongly recommended to apply to your systems. If appropriate also visit Microsoft Access Developers Edition Service Packs, Release, Patches and Updates. Note that the Developers Edition Service Packs are not part of Microsoft Office Update.
Weird problems and corruption can happen if different Service Releases of Microsoft Access/Office or Service Packs of Jet are installed at different PCs.. For some sample code to verify the version numbers of key DLLs when you start your app visit Verify Appropriate Jet Service Pack is installed.
Microsoft Office Update: Office 2000 and newer are now part of the Office Update strategy which will automatically update your system. You can still download the updates and patches individually especially if you want to minimize Internet traffic.
The Developers Version has had a different name and abbreviation in just about each version of Access. It's basic function, as far as this document is concerned, is to give you a means of distributing a "runtime" version of Access along with your application royalty free. If you're not sure if you have it installed then you almost certainly don't.
Data Access and Storage Developer Home - Product and Update Downloads This page lists downloads for Microsoft data access technologies, including ADO.NET, Microsoft Data Access Components (MDAC) and the Microsoft SQL Server 2000 Desktop Engine (MSDE 2000).
I'm not overly familiar with MDAC so no comments other than the above.

---
Jet
Access is the Graphical User Interface that allows you to work with tables, queries, etc. Jet is the database storage system. They each have their own set of patches. Most of the time the difference between Jet and Access isn't that important. However now is that time.

Access 2000 and newer use Jet 4.0 which is at SP 8. (There is a newer version available as part of a security patch. However it doesn't have a Jet version.) Thus if you have multiple versions of Access 2000 and newer installed you only need to concern yourself with Jet 4.0.

Access 97 uses Jet 3.5 which is now at SP 3. Although with the Jet 3.5 SP3 it's actually Jet 3.51 in the references window. Access 95 uses Jet 3.0 and I sincerely hope you are not using it. Access 2.0 uses Jet 2.5. Access 1.0/1.1 I forget now and I'm not installing it to find out either.
Jet 4.0
MS04-014: Vulnerability in the Microsoft Jet Database Engine could permit code execution - 837001 Note that while this updates Jet 4.0 this does not have a Jet SP version number.
How To: Obtain the Latest Service Pack for the Microsoft Jet 4.0 Database Engine - 239114
or Information About Jet 4.0 Service Pack 8 - 829558
Updated version of the Microsoft Jet 4.0 Service Pack 8 replication files is available in the Download Center - 321076
You should not be at Windows 2000 SP2 as SP3 has a bunch of security and other fixes in it. Therefore this note should be irrelevant. There is a problem with Windows 2000 SP2. Q304084 - Access Quits When You Add Data Through a Query After You Upgrade to Jet 4.0 Service Pack 5. Jet 4.0 SP 6 (and newer) is out and will resolve this problem. While I didn't check for each individual file Win2K SP3 and Win XP SP1 have the Jet updates also contained in Jet 4.0 SP6.
Jet 4.0 SP4 and SP5 are particularly troublesome. Update them as soon as possible. For example ACC2000: AutoNumber Field Duplicates Previous Values After You Compact and Repair a Database - 257408.
Jet 3.5
Updated Version of Microsoft Jet 3.5 (Jet35SP3) Note that these are newer than the below SR-1 or SR-2 fixes. You must previously installed Access/Office 97 SR-2.
---
Access/Office
Access 2003
Description of Office 2003 Service Pack 1
Issues that are fixed in Access 2003 by Office 2003 Service Pack 1
Office 2003 Service Pack 1 (Download as a file)
Access XP (sometimes known as Access 2002)
Office XP Developers Edition
The below Runtime Updates update the Access runtime on the client workstations to the same level as corresponding Office XP Service Pack. These do not update the runtime you, the developer, create on your own system. These updates also do not update Jet. The Microsoft Office Update did identify these as updates to be required.
These update your developers version but only with developer patches. And not the patches for the files you distribute. In other words the runtime creates the runtime package using the files from the original Office install without any patches.
Also the Office Update website will not check for updates to the Developers portion of Office.
Access 2000
Office 2000 Update: Service Pack 3 (SP3) (Prior to installing SP3, you must install Office 2000 Service Release 1a (SR1a) Update).
How To: Obtain the Latest Service Pack for the Microsoft Jet 4.0 Database Engine
Microsoft Office 2000 Resource Kit Toolbox You can manually download many SRs/SPs directly instead of using Windows Update or the little starter files that then download the larger update files which require you to have high speed Internet access at all the workstations.
Microsoft Office 2000 Developer
Access 97 (occasionally known as Access 8.0)
Access 7.0 aka Access 95
Access 2.0

Auto FE Updater distribute new and updated Front End databases to your users with several mouse clicks.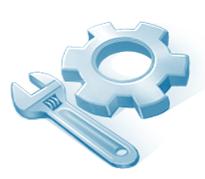 Granite Fleet Manager - the best designed fleet maintenance tracking and management system available